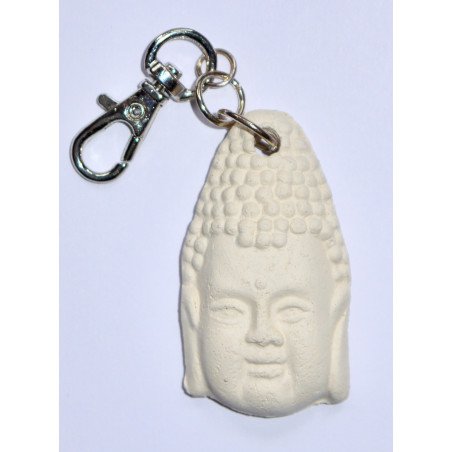  
Scenting Bouddha Keychain
No tax
Delivery : 4 to 6 days
White ceramic Buddha essential oil diffuser
Beautiful white ceramic Buddha keychain paired with a bottle of organic lavandin essential oil presented in an original box.
Secured payment
Delivery in 4 to 6 days
Enjoy the benefits of essential oils throughout the day
Featuring an elegant and sleek design, this keychain adds a touch of sophistication to your daily life. Its smooth surface and immaculate finish make it an aesthetic and practical accessory, perfect for bringing a sense of tranquility to your bustling life.
Lightweight and compact, this keychain can be carried with you everywhere, allowing you to enjoy the benefits of aromatherapy wherever you go. Simply drop a few drops of your favorite essential oil on the ceramic surface to enjoy a gentle and subtle diffusion throughout the day. Whether to calm your mind during a busy day or to create a relaxing atmosphere at home, this white ceramic keychain is the ideal accessory for a harmonious and soothing olfactory experience.
Features
White ceramic Buddha.
Diffuser dimensions: 5 cm X 3 cm.
3 ml bottle of organic lavandin essential oil distilled in the Vosges.
Box dimensions: 14 cm X 10 cm.
Instructions: Place a few drops of essential oils on the diffuser. Repeat the process as needed.
100% handmade in Alsace, France 🇫🇷