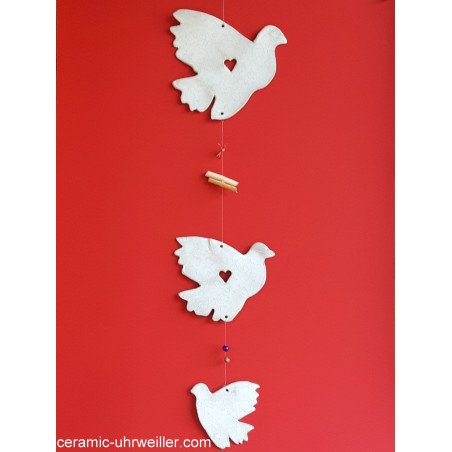  
Happiness Doves
No tax
Delivery : 4 to 6 days
White ceramic "Colombes du Bonheur" to hang wherever you want. Can be suspended indoors or outdoors. Frost resistant.
Secured payment
Delivery in 4 to 6 days
3 ceramic parts. The doves are white and degressive in size.
Symbol of peace, purity, love and freedom, it carries a strong and universal message.
Size of the doves:
17 X 18 cm
13 X 15 cm
10 X 11 cm
The total length of the mobile phone is approximately: 70 cm
The subjects are separated through wood beads, rafia and extracts of natural willow branches and feathers
Wooden beads are blood red, green, yellow or natural. The rafia is a matching colour.